I do

 is a wedding planning app designed to help brides-to-be plan everything about their wedding all in one app. The app is also mainly designed to help lessen the amount of stress of engaged couples in planning their wedding.

For this project, I opted to do user interviews as part of my user research. I gathered information about which demographic they belong to and ask
ed them open-ended questions about their wedding with the main goal of finding out wha
t their main pain points were. 
After doing six series of user interviews, my users seem to have these top three goals in common...
1. Have all of their families be present in their wedding.
2. Make it as stress-free as possible.
3. Make it their dream wedding. 
Brides-to-be need a way to plan their wedding in a stress-free way that allow them to invite as many family members as they needed and gives them the creative freedom to plan the wedding of their dreams because a wedding is sacred, once-in-a-lifetime event that is often times stressful to plan.
 Based on the interviews and the demographics of my users, I came up with
Olivia Walker.
For my competitive analysis, I used both the
Pros and Cons Method
and
Feature Comparison Table Method.
I used the Pros and Cons Method for my Indirect/Analogous Competitors and Feature Comparison Table Method for my Direct Competitors.
Pros & Cons Method for Indirect Competitors: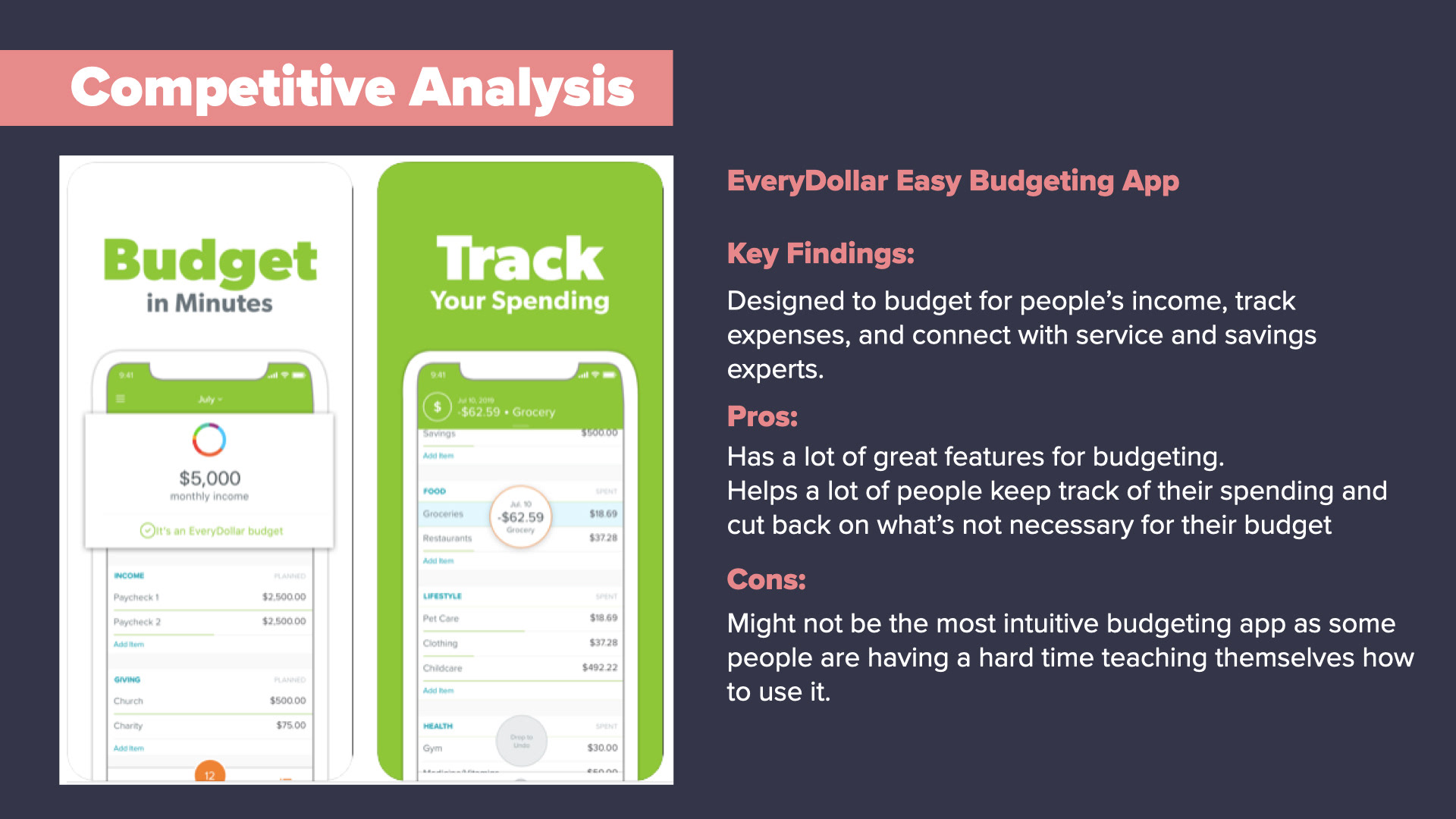 Since there were multiple possible objectives for my users to achieve inside my app, I created five different User Flows.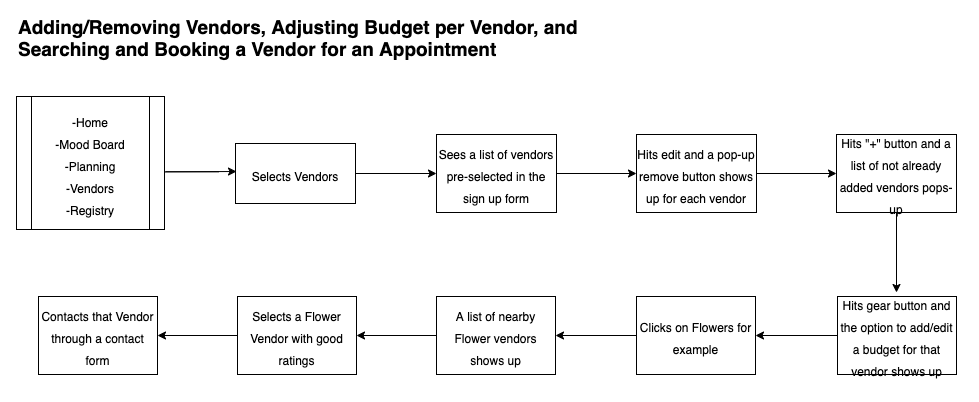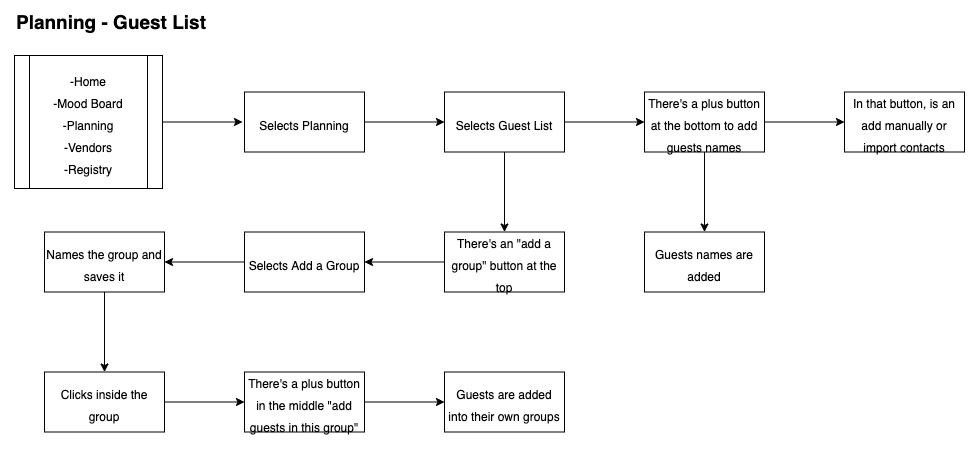 Paper Prototype &
LOw-Fidelity Mockups:
Using the
User Flows
I came up with for this project, I made rough sketches as the beginning of my designing process. I shortly then turned them into low-fidelity wireframes using Adobe XD.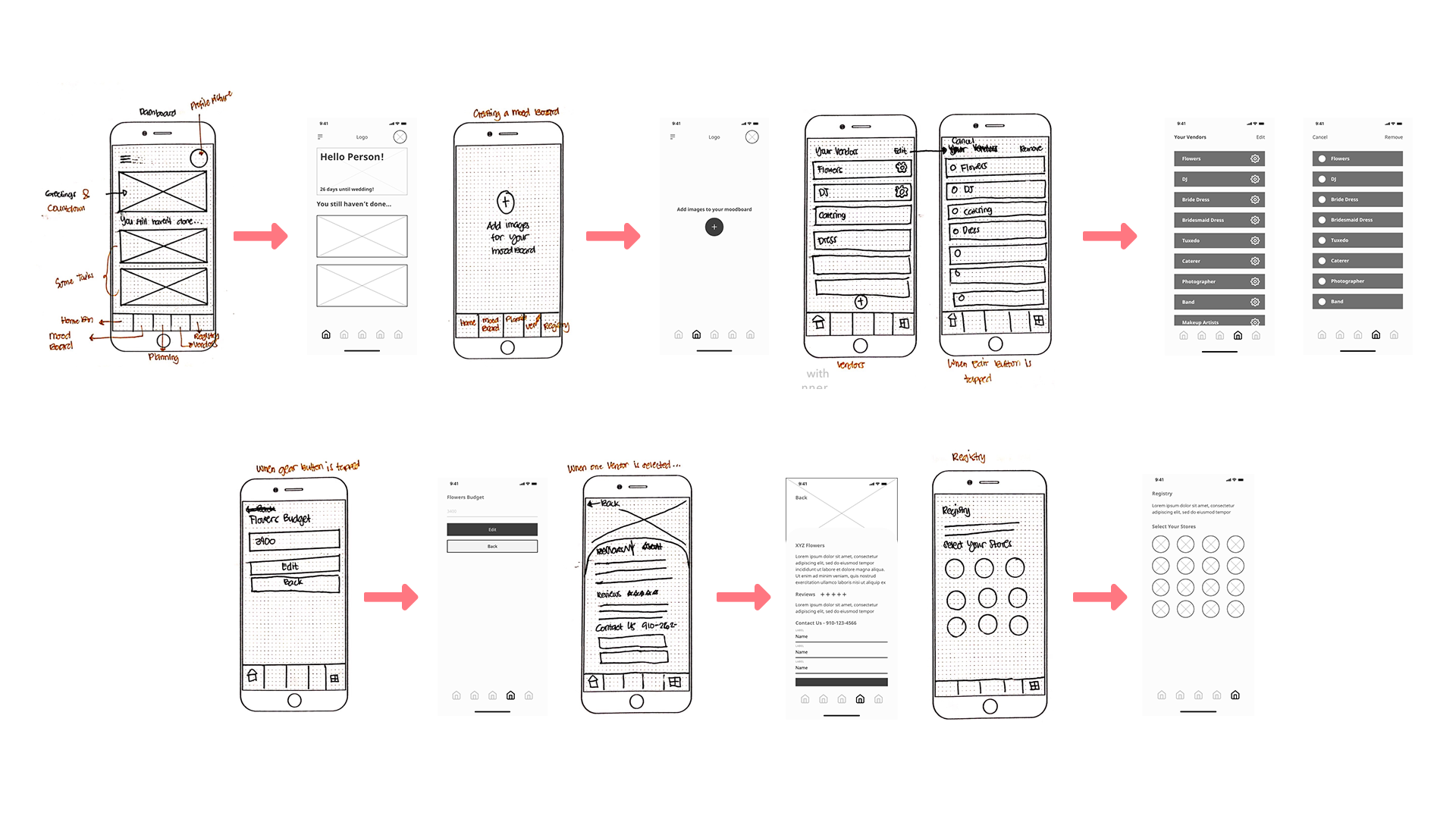 My screens were thorough enough for me to be able to conduct testing at this point with a few goals in mind. 
1. Adding items to the Mood Board. 
2. Changing the budget for one category. 
3. Contacting a vendor. 
The responses I got were very insightful. I made a few mistakes and over-thought the whole process trying to make it simple when sometimes, less doesn't always mean more. Sometimes, users want it more elaborate to completely have a contextual level of grasp for the product you're designing for.
This was a pivoting point for me
.
I knew what needed to be done, I finally knew where I made errors such as...
1. My low-fidelity prototype was to its bare minimum, it didn't even have different icons to represent different buttons.
2. The buttons in the Vendors page had too many functions put together in one button, it needed to be expanded.
3. My users suggested a better way of arranging the settings that was tucked away underneath each vendor category. 
I went back and fixed those errors and showed them into my high-fidelity mockups!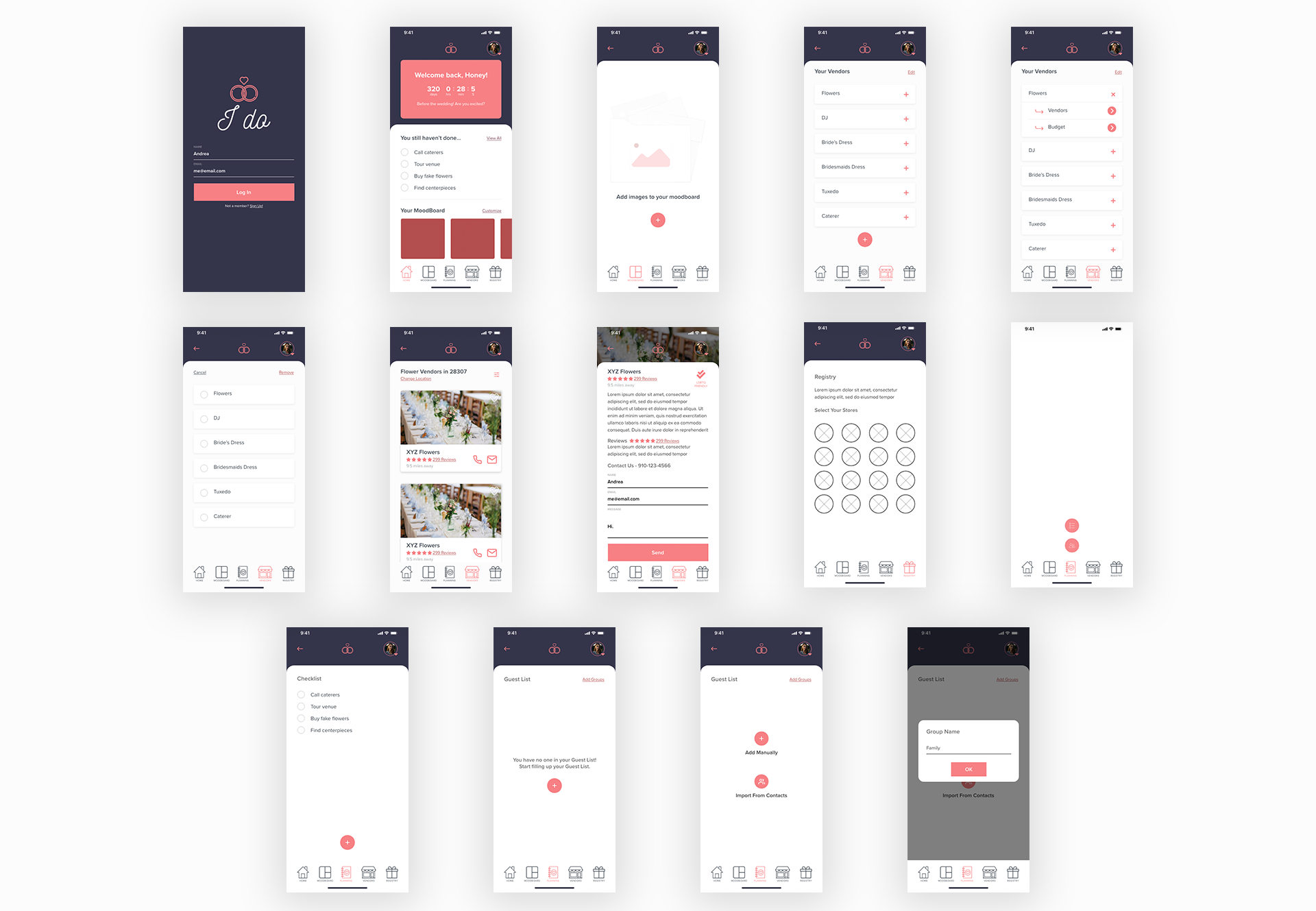 Overall, I've learned that while I may not be the best empath, I certainly am not the worst either. There is always room for improvements and I believe with time and experience, anyone can get better. I also learned...
1. ALWAYS test!
2. Practice asking the right questions. 
3. It's not about what I want, it's about what the users need.
4. Be open-minded and flexible to pivots! While they may produce great user experiences, it can also cause a frustrated designer who was already committed to previous designs. 
While conducting user research, I came across another problem some users are facing specifically people belonging in the LGBTQ community since there seems to be no product at this point in time that is gauged more towards their community. 
Also, while going through User Flows and formulating them, I realized that I also needed a Vendor's Side Portal.

More testing should also be done.